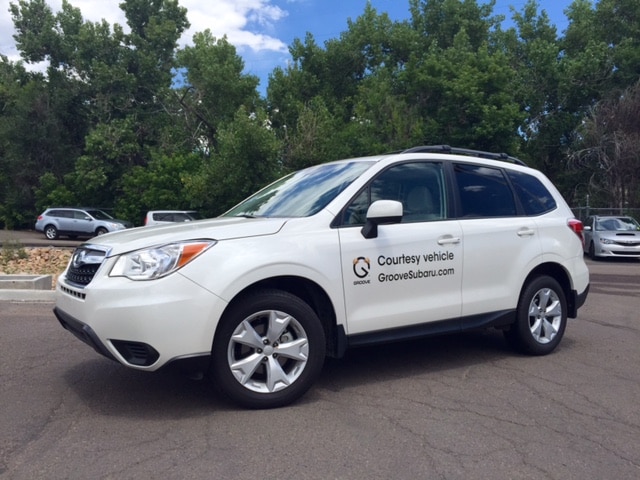 Extending the Level of Service at Groove Subaru
As part of Groove Subaru's commitment to exceptional experiences, we carefully consider each opportunity to make our customer's lives easier. For those guests who find themselves in need of a vehicle while their car is in the service drive, we have a fleet of 2015 Subarus ready for action.
This Courtesy Vehicle program is very unique to Groove Subaru, as most mainstream brands do not offer this luxury-level service. We are always looking for ways to enhance the customer experience and keep you coming back to Groove Subaru.
The Courtesy Vehicle program is complimentary for those whose repair service is either covered by warranty or amounts to $300.00 or more. This service is also complimentary if you recently purchased a vehicle from Groove Subaru and your car is in service for installation of aftermarket products. If your service or repair does not meet the above criteria, Groove Subaru?s friendly
Service Advisors
can offer you one of our Courtesy Vehicles for a nominal rental fee.
Drive 2015's Hottest Models as Courtesy Vehicles
Groove Subaru's Courtesy Vehicle fleet includes new 2015 Subaru Foresters, Impreza, Crosstrek, Outback and Legacy. These vehicles are all nicely equipped with standard backup cameras, Bluetooth accessibility and cruise control.
The Courtesy Vehicle program at Groove Subaru is an opportunity to keep our customers on the move during their service visit, but it is also designed to offer an up close and personal look at the 2015 models for our customers who might be thinking of an upgrade. Don't forget, Groove Subaru is always willing to make our customers an aggressive offer on their
Pre-loved Subaru
.
We also offer parallel program called Courtesy Shuttle that allows our customers to get a free ride to their destination within a short radius around the dealership. Your Service Advisor will have details on this program, which is free to all service guests.
What happens to the Courtesy Vehicles at 6 months? 
Groove Subaru rotates the vehicles in our courtesy fleet so that we can offer gently used vehicles as
Subaru Certified Pre-Owned
options for our customers looking to buy.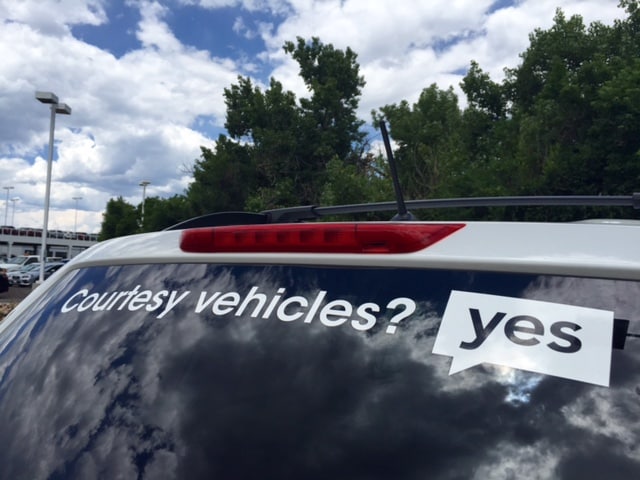 The Courtesy Vehicle program allows the best of everything: it keeps our customers happy and on the move, it gives us special Pre-Owned inventory after 6 months, and most of all, it elevates the guest experience to an extraordinary level of service that Subaru owners will only find at Groove.
We hope you'll take advantage of this service next time you're in the service drive. Thank you for servicing with Groove Subaru, where "YES" isn't just a word, its our way of doing business.
Take Care of Your Investment!
In order to maintain the value of your car and to keep it running smoothly for many years, it's important to have it serviced regularly and have it repaired at the first sign of a problem. The longer you put off repairs, the more you can expect to pay once you decide to have your vehicle fixed, and if you don't get your car serviced regularly according to the manufacturer's suggestions, your car will most likely not last as long as it should.
Another key factor in helping to maintain your vehicle's value and increase its lifespan is to have only skilled, experienced, factory-certified technicians work on your car. At Groove Subaru in Englewood, Colorado, our service department employs only the most talented factory-trained technicians in the area, and we accept nothing less than perfect repair/service work on every vehicle that comes through our service department door.
Why Choose Groove Subaru Service Department?
Not only does the sales team at Groove Subaru take good care of our customers; the Groove Subaru Service Department makes customer service our top priority. We offer a number of service and parts specials, and we provide a vehicle check-up report for every visit. You'll find coupons that will save you money on oil changes, brake repair, alignments and many other regular maintenance needs right here on our website.
We offer service menu pricing so you can see what needs to be done at each milestone for your vehicle. We list the service, the price and at what odometer reading these services should be performed. We keep track of everything for you with a vehicle check-up report to take the guesswork out of what your vehicle needs.
Our Quick Lane Service Department provides these services (and any others you may need):
–    Air conditioning systems
–    Alignments
–    Alternators
–    Batteries
–    Belts and hoses
–    Brakes
–    Cooling systems
–    Suspension and steering systems
–    Lamps and bulbs
–    Oil changes
–    Tires
–    Transmissions
–    Wipe blades
At each visit, we'll perform:
–    Free tire inspection
–    Fluid top-offs
–    Free brake inspection
–    Free battery inspection
–    Free windshield wash and interior vacuum
At Groove Subaru, we also offer a lifetime of free tire rotations when you purchase four new tires from us.
Groove Subaru Service Department Amenities
We know how important it is to have your car up and running smoothly, so we do everything in our power to get you in and out in a timely fashion. To make your experience as pleasant as possible we also offer a number of amenities including:
–    Evening and weekend hours
–    No appointment necessary
–    Service while you wait in our comfortable customer lounge with a coffee bar
–    Car wash and interior vacuum with every service
–    We accept all major credit cards
–    Free pick-up and delivery of your vehicle
–    Wi-Fi access in the customer lounge
–    We honor competitors' coupons
–    Our tire prices meet or beat the competition
–    A view of the service bay
–    Diesel vehicles are welcomed
Not only does Groove Subaru sell cars, we fix them, too. And we service them according to the manufacturer's recommendations to help prevent costly repairs down the road.
If you live in or around Englewood, Colorado, please call, stop by or fill out our easy online appointment form for your next routine service or to have a repair performed in a timely manner and at an affordable price. One visit and you'll see why so many Coloradans choose Groove Subaru as their go-to Service Department for all of their vehicle's repair and service needs.
Browse Our New Site

Our new service and parts centered site is chock full of vehicle maintenance goodies like our: Service Special page, Dare To Compare page, and even our helpful Subaru Videos page.

Reach Out If You Have Any Questions

So browse our site, schedule an appointment, or even contact us about servicing your Subaru vehicle today.